The Wolff Hydraulic Limb Clipper fits a bale spike on a front end loader, or similar machine with reaching height. No tilt cylinder is needed. Unit automatically tilts perpendicular to limb when open clipper pushes against limb, or when cut begins. This device can also be mounted on the end of a loader bucket to allow operator to cut, catch, and load, in one operation. This unit is ideal for cutting limbs around the edges of fields that are interfering with crop production and harvesting, and other general trimming around the farm. This unit will cut limbs up to 8" dia., depending on tree hardness, and hydraulic pressure of tractor. All who have used this machine find it to be a very valuable addition to their machinery lineup. This machine will help you recapture your farm land. It may pay for itself by what you save in broken tractor cab glass, windshield wipers, headlights, mufflers, exhaust manifolds, and fiberglass cab tops, and facial damage.
For questions, comments, or pricing;
E-mail us by clicking on the following:
Limb Clipper side view on bale spear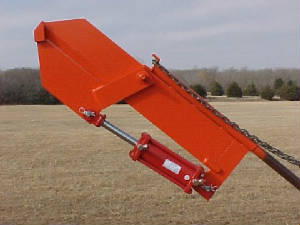 showing chain restraint to loader frame.
Limb Clipper viewed from rear
showing maximum visibility on both sides!
Limb Clipper mounted on loader bale spear.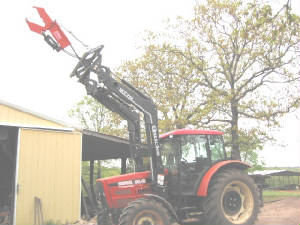 How high would you like to cut?
NEW! Series II Limb Clipper
shown on loader bale spear